NZ Greek History in Wellington
In 2006 there was estimated to be about 3000 Greeks in New Zealand comprised of original Immigrants plus first, second, third and fourth generations born here. Most of them live in Wellington, the capital city of New Zealand with scattered groups spread throughout the rest of the country such as Auckland, Christchurch, Napier, Whanganui and Palmerston North.
Initial immigation was from many different parts of Greece both, from the  mainland and the islands, such as Crete and Mytiline. Many Greek Cypriots also established themselves here. The majority of Greeks arrived during the 1950s and 1960s, but a strong basis had been established by the earlier arrivals in the first part of the 20th century....  
Greek Orthodox Community School Enrolment 2013

Wednesday, Jan 11, 2012

The Greek Community school has been operating for more than 60 years and is seen as a vital resource for the local community in maintaining the Greek culture, language and heritage in Wellington's ever changing social and economic environments. ...

Read More »
Food Festival

Saturday, Feb 28, 2015

The Greek Food Festival  will be held on Saturday,February 28,2015 in Hania Street, Mt Victoria,Wgton,commencing at 10am. ...

Read More »
AGM 2014

Sunday, Nov 30, 2014

The AGM of the GOC will be take place held on Sunday 30th November,2014 at Parthenon Bldg, commencing at 3pm .At end of AGM,elections will be held for new Management Committee . Nominations may be registered on notice board in Greek Cathedral.     ...

Read More »
Original Church erected 1947.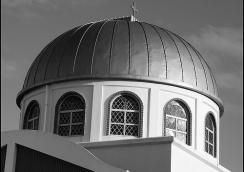 Present Church (Cathedral) erected in 1970
Recent Notices
Weddings,Christenings,Funeral Services,Memorial Services etc. - 2012-07-02

View More »

Goyanz website - 2012-07-09

View More »